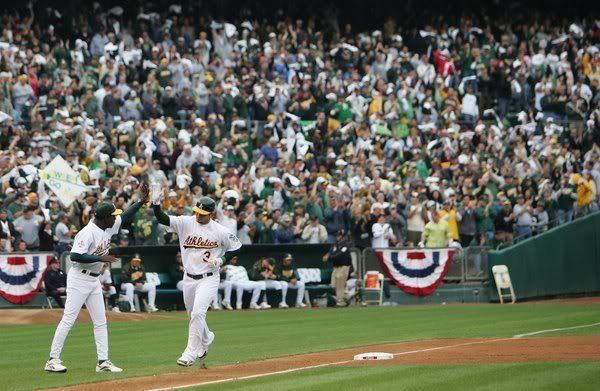 by Ryland Walker Knight

The American League Championship Series begins Tuesday night in Oakland. Yes, the A's came to play in the Divisional Series and swept the Twins. They played "mistake-free baseball" according to the Twins' catcher Joe Mauer, while the Twins made mistake after mistake. For me, it was a joy. I wear my hat with pride in these Seattle streets. I've been attracting a lot of attention, some distasteful but mostly congradulatory. Even from a devoted--and drunk--Minesota native who told me, "That Torii Hunter sure lost the game for them."

That much is true. We won with determination. The Twins fell apart. A perfect sweep never trailing at any point in the series.

But it's back to worrying because those Tigers out of Detroit are no baby cubs: they have fangs and claws and ferocity. The Yankees--and all the East Coast biased media--underestimated them and they paid the price. Their pitching staff reverted to its early season dominance and their offense never gave up, even in their Game One loss, always fighting, applying pressure. There's no doubt their fearless attitude is going to help a soaring confidence level.

But the A's are pretty happy right now, too. I just hope they aren't complacent. And from what I've read, that's not the case. Frank Thomas keeps grounding the kids after big wins and reminding them, "There's still more games, more series we got to win." The champagne's great but you gotta remember the big picture: The World Series.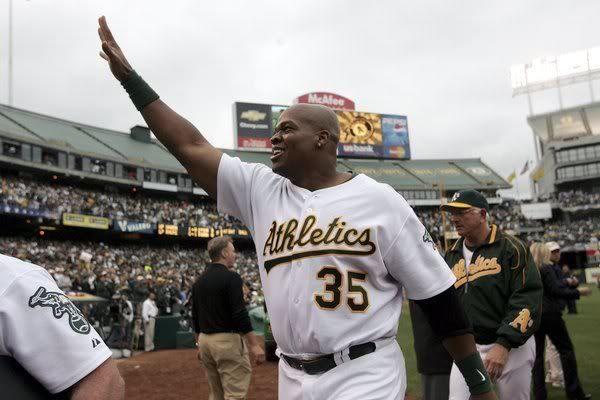 Manager Ken Macha rarely sleeps a full night. He's up early planning, working hard to prepare. His staff works hard too and this commitment has shone through his players this year. The team was banged up the entire season but always found ways to win. They got hot like always in the second half and showed they deserved to win the AL West. Frank Thomas has said this is the first club he's been a part of in 17 big league years that never had a squabble or prima donna moment--just a bunch of guys who love to play the game right. And that's what we fans have to count on: that diligence to play mistake-free, hard-nosed baseball until the final out. Because the Detroit Tigers have the same philosophy. There won't be an inch to budge.

But I can't stop grinning thinking about this match up. It's a pretty evenly matched series with a slight edge going to the Tigers for shutting down what, on paper, seemed like the best lineup to ever see the limelight in the postseason. But I think with home field advantage and an energized, devoted club eager to keep proving themselves the A's can win it in six. However, I'm sure there's a Tigers fan writing this same blog right now talking all about their monumental triumph. Should be fun. With fingers crossed and hat snug I wait patiently. Go A's!