by Ryland Walker Knight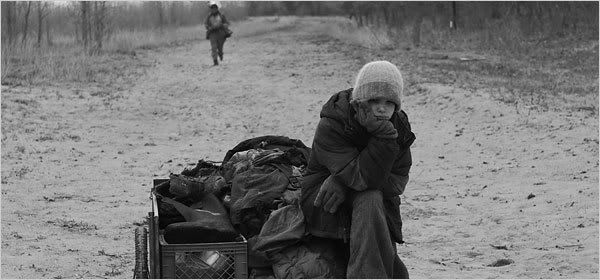 Once there were brook trout in the streams in the mountains. You could see them standing in the amber current where the white edges of their fins wimpled softly in the flow. They smelled of moss in your hand. Polished and muscular and torsional. On their backs were vermiculate patterns that were maps of the world in its becoming. Maps and mazes. Of a thing which could not be put back. Not be made right again. In the deep glens where they lived all things were older than man and they hummed of mystery.
That's the last graf of Cormac McCarthy's
The Road
. I guess you might be mad at me for grabbing it. But, you know, it won't ruin the book if you haven't read it and were planning on reading it before it transforms into
pictures
later in the year. The reason it won't ruin the un-read book is because that book is easily the best thing I've read of McCarthy's. Granted, all I've read prior is
All the Pretty Horses
and
No Country For Old Men
and some pieces of
The Crossing
. However, no other words of his that I've read have stirred me as much as these -- these quoted and these of the whole. It's a simple book with a simple argument (really, all his stories are pretty simple), but the occasional sentence, or glimpse-graf (as I described it to a coworker), stuns the senses. The thing he does best as a writer, I find, is how he can create an affect with words. Part of the reason I've refused to read
Blood Meridian
is because I bet, if all its faithful are correct, it's a harrowing novel to indulge in; and as much as I don't want to read it, I don't want to see some of the things those faithful have described transformed into images by
Ridley Scott
, who has not made a movie I respect (much less enjoy) in quite some time.
But back to
The Road
.
There was
this puff piece in the NY Times
drumming up interest almost a month ago, which is where this picture comes from. The only other bit of coolness from that story is the casting news, which I guess you shouldn't read if you want to read the book but I was happy to hear about Michael K Williams' role especially since I want him to have a good career.
Anyways, back to
The Road
, the book.
McCarthy still kinda irks me in the usual ways: I get what he's doing with the no quotes and everything but sometimes it just seems like a posture. The pullquote from the NY Times on the back of the book reads: "Vivid, eloquent. . . .
The Road
is the most readable of [McCarthy's] works, and consistently brilliant in its imagining of the posthumous condition of nature and civilization." That's from a well written appreciation by William Kennedy you can read
right here
. It's better than I can offer here and now.
But, still. I'll push forward, like the father in the story. He's driven to do whatever to keep his son alive. The thing I responded to more in this book than previous books of McCarthy's is how his prose here sounds more like a fable than sermon. Also, it's affirmative. As much as the world is dead and dying and the father and son encounter death along the road, it's a book about living in the world; about what it means to live, and what choices we make for why we want to keep living in the world despite the ugliness.
No Country
seems to be simple a parade of death, of deaths meted by evil. And its argument, with its varied points of view, sets up the author-as-God misread that can turn people like me off: why are you orchestrating this, dude? (That's what people don't like about silly crap like
The Happening
, which is better than terrible but only so.)
No Country
and
All the Pretty Horses
kind of wallow in the violence and grisly details.
The Road
is brisk, always moving forward, easy to read in a day or two. And, well, it's about dads. Being a boy with all kinds of shortcomings, who loves his dad despite all his dad's unavoidable shortcomings, I cannot ignore the fact that this father-son relationship touched me because it is about the mutual failures and giant-small success stories that can and do sustain that bond, even past the grave when mystery is all we have to look for, all we can see, all we're given, all we have to embrace.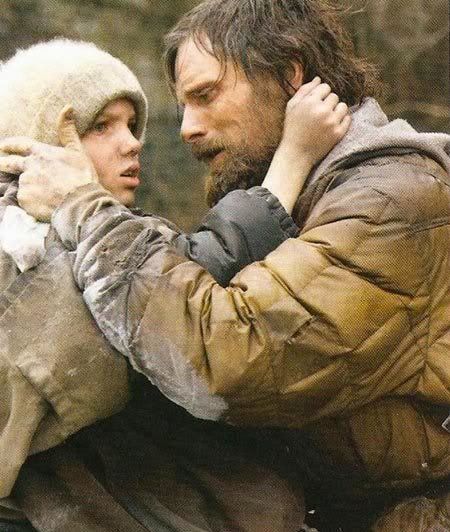 [John Hillcoat's adaptation comes out nation-wide November 26th, 2008. The book is widely available at all local libraries. I should have given my copy back to my dad yesterday as a present.]