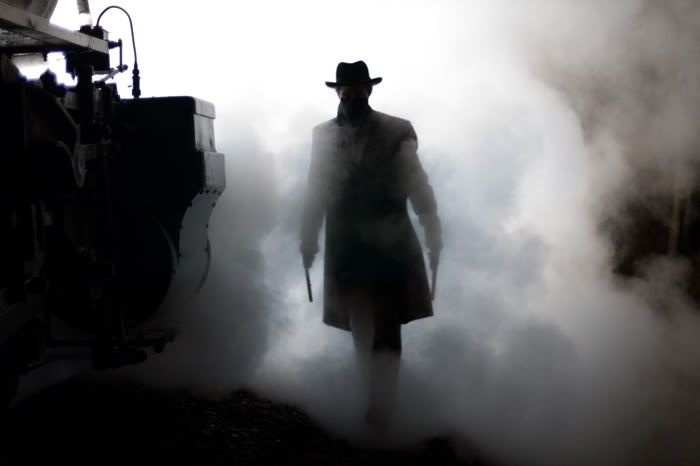 The Daily Cal published my review of
The Assassination of Jesse James by the Coward Robert Ford
today. The skinny is I think it a waste of time. The dash-off long of it can be
read here
. Similar problems plague this Brad Pitt vehicle that did last week's
3:10 to Yuma
but they move in opposite directions from a base misunderstanding of their genre, and its current demands. Andrew Dominik's
Jesse James
picture tries so hard to be special it can only fail to live up to its amplified flamboyance; James Mangold's
3:10
remake is so flat it never gets going, even with a barn-burning at the opening. Or: one tries to re-invent the wheel with borrowed gimmicks while the other tries to fasten the wheel back in place with worn (however trusty) tools at hand.
A problem I didn't really get into in my newest review was Dominik trying to make a hagiographical film while at the same time deflating the legend. I hint at it when I said it lacks irony but let me be a little more clear. The cake-and-eat-it-too problem here is related to the filmmakers' approach to the genre. Invoking
Unforgiven
in my review of
3:10
was probably a miscue because there's more to mine comparing it to
Jesse James
. That is, Clint Eastwood and David Webb Peoples get it right and Dominik fails. Eastwood doesn't need voice-over. Eastwood doesn't need flashy lens tricks. Eastwood doesn't need three hours. And, you know, Eastwood and Gene Hackman versus Brad Pitt and Casey Affleck? Talk about a mismatch. Finally, the new idea of The Western has been infected by the success of
Unforgiven
and David Milch's
Deadwood
so that nobody making one feels comfortable simply making one. Part of Eastwood's success is he quoted and commented on the genre in the flow of his storytelling; something he did equally well in
Million Dollar Baby
. There was nobody screaming, "Wasn't The West histrionic and hypocritical?" You just saw it as such. I think the problem
3:10
faced was it hoped to adopt this posture (scheme) but there was nothing novel in any element of its execution. And it's jokes weren't funny. (That's what
Dead Man
has: a ripe ironic sense of humor.)
So why spend more time talking about these failures, right? Well, because a lot of people are going to like these movies. And a lot of each movie could have been good. Now that Brad Pitt won a Silver Lion at Venice I'm sure he'll get all kinds of "award buzz" and whatnot. Even as good as Pitt is, he's been better, with better material, in other movies I don't quite enjoy for one reason or another, like his 01990s David Fincher double bill:
Se7en
and
Fight Club
. For all of the latter's problems, Tyler Durden was always exciting, and funny. Dominik's vision of Jesse James is always obnoxious, and boring: a bona fide shit heel. So what he was elevated to celebrity because of his crimes (and his theatrical death)? What else? Tyler Durden's celebrity is way more interesting because it has scary ramifications. Both films' authority annoys me (who wants a movie to scold them?) but Dominik's is so achingly serious I wanted to leave twenty minutes into the thing (and then again and again at every twenty minute interval). At least Mangold's film gets in and gets out. (This from a guy who loves
INLAND EMPIRE
? Well, yeah: Lynch opens new worlds every second, Dominik simply takes a featherweight facsimile of this one and slaps you around with it.)
All of which is to say, Don't waste your time with these new Westerns. If anything watch old ones. Or
Deadwood
. They understand America, that fictional world of promise. And they understand icons without spending three hours on it. Really, this is all to say
My Darling Clementine
is what Dominik wishes he could make and, more obviously, the original
3:10
is what Mangold wishes he could make. And both are far worthier of your time. (Especially Ford's film: I mean, wow.) Oh, and Clint Eastwood is pretty fucking tight. But Brad Pitt is really pretty.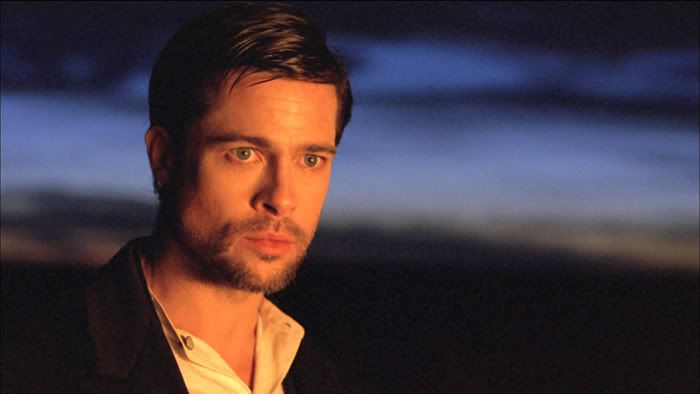 [ASIDE: Can't wait for
No Country For Old Men
. That will be a real Western. Won't it, all you from Toronto Film Critic Camp? (The first trailer below, the red-band at the site linked to above.)]