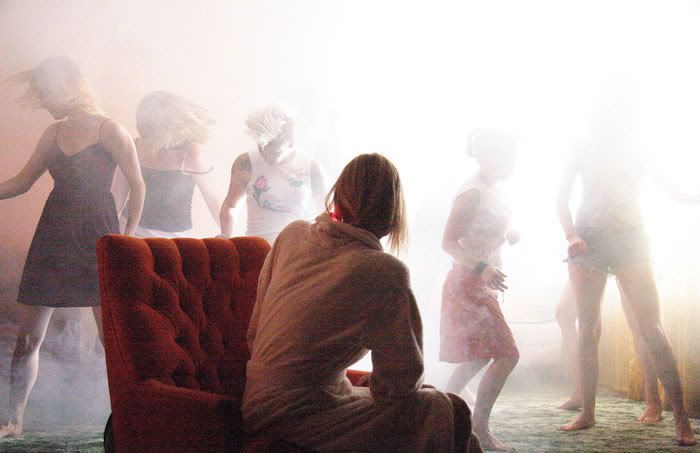 by
Stephen Farrell
I'll be the first to admit it: I've never been a huge David Lynch fan.
I don't mean that in a sarcastic way, like I'm understating my dislike for the man and his work, I mean it to be taken at face value: I've never been a huge David Lynch fan.
I've seen
Blue Velvet
and
Lost Highway
and a smattering of
Twin Peaks
episodes back when they used to show reruns on cable, but other than that I don't have too much knowledge of his work.
INLAND EMPIRE
is without a doubt the most "difficult" Lynch film I've seen, and is probably one of the more bizarre cinematic experiences I've ever had.
It is also maddeningly hard to describe.
It is ostensibly a story about an actress and the role she lands in a film which turns out to be cursed, but to call it a "movie-within-a-movie" would be an absurd understatement.
Is it about
Hollywood
?
Sure, but it's also about early-twentieth century
Poland
.
There are scenes of arresting, undeniable beauty, and scenes of talking, laugh-tracked rabbits.
If someone asked me to describe what I saw in the (almost) three hours of my life it took to watch this film, I wouldn't know where to start.
It seems that with this type of film, where there is no coherent narrative, where identities are unstable and dialogue tends to conceal more than it reveals, the best way to watch it is simply to sit back and let it wash over you, to allow the images and sounds and symbols to hit you on a visceral level and work their magic in the unlit corners of your subconscious. The problem is, every scene, every moment of INLAND EMPIRE is so obscure, so murky and ambiguous, I found my cerebrum working twice as hard just trying to figure out what it was all about, searching for clues in the sets, in the actors' words, in the silences. Exposition being more or less jettisoned after the fourth or fifth scene, I spent the rest of the film scouring every detail and word, constantly trying to fit them into the semblance of plot that existed in those initial few minutes. Knowing that linear narrative is not going to supply a framework for the piece, every visual cue becomes a symbol and every furtive glance a semaphore that must be deciphered if one is to "get it."
And that's the problem with David Lynch movies. People like to say that you either love him or hate him, but that's not true. No, with Lynch, you either get it or you don't. For every one of his films (and indeed, for his oeuvre as a whole) there are always those who champion it as the most brilliant, creative, evocative work of art since…well, since the last one. And then there's everyone else, divided between those who don't get it, those who didn't see it, and those who don't know who the fuck David Lynch is (most of the moviegoing public). The problem is, among those who do see his movies, there can't be any dialogue between the two groups, because those that get it will consider any criticism from those who don't get it to simply be due to the others' not getting it. Those that don't get it will, for their part, think that anyone who gets it must be a dishonest, pretentious fanboy. And they're both right.
David Lynch has been vocally silent about how he wants INLAND EMPIRE, and in fact all his films, to be interpreted. This is of course the right thing to do. The creator of a work has said all he or she needs to say about it in the work itself; talking about it or offering interpretations for one's work implies that something has been left out. And as I explored in a previous post on this site, ambiguity is something which I greatly appreciate in storytelling. But ambiguity is not an end in itself. Without a concrete grounding in reality and narrative, the flights of fancy become meaningless. Surrealism must juxtapose familiar symbols in unexpected ways; if the symbols are not familiar or non-representative, it is abstractionism. People often talk about David Lynch's work having a "dreamlike" quality, and this is particularly true of INLAND EMPIRE. The non-sequitor dialogue, haunting imagery and muted digital color palate all lend themselves to this. But just as one wakes from a dream perhaps disturbed but resigned to go on with life without learning what it all means, one leaves INLAND EMPIRE shaken and intrigued, but left without much to work with in making sense of it all. Or maybe I just don't get it.