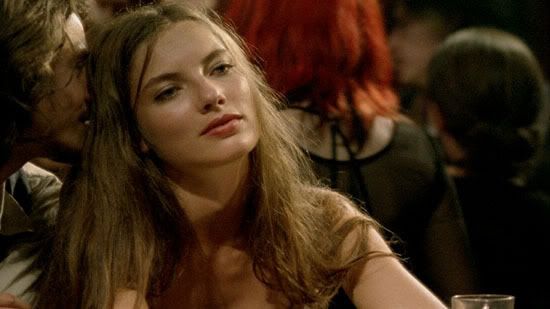 From: Jennifer Stewart
To: Ryland Walker Knight, Kevin B Lee
Subject: RE: hoberman, sylvia
Kevin and Ryland,
I have just a few comments all inspired by our pre/post film analysis and your fetching essay, Ry. Unfortunately my thoughts are more responsive and fragmented than yours are coherently developed. But I'll let you blogbarians take it from here.
Kevin, while on BART Ry and I spoke more about this phenomenology idea. I think your essay shows, Ry, that the film is more a phenomenology of spectatorship than a phenomenology of thought. What El was doing in the cafe as he looked and sketched, is not what I'd call tantamount to thinking but rather, to fixing a view; really, tantamount to
intentionality
: he's trying to settle what object his thought is bent on. And his efforts are subject to the interference of occlusion (other heads/objects get in the way), the limits/possibilities of two-dimensional collapse (the 'flat' surface of his sketching page), and the uncanny moment when these objects
return
his gaze, catch his eye. All goes well with his pursuit of "Sylvia," after all, until she looks back; until they reach the moment when he must account for pursuing her as a cypher for his desire. A moment he calls a disaster never really recovers from.
Two things I don't understand and think analysis of the film should explain:
what's significant about El sleeping with that beautiful but weird spaced out/drunk/bad dancer girl?

in the last few minutes, through the 'screen' of the train, we see a girl in sunglasses. The entire left side of her face is scared or burned. A few cuts later we see her again, removing her sunglasses to revealno eye (!) on that side. It was pretty gruesome. Kevin, you saw that, right? Ry somehow missed it so please confirm I'm not making this up.

Both these Sylvia dopplegangers (in some sense all the women in the film are) could be read as casualties of El's pursuit. The crevices, lines, and shadows of the scarred woman's disfigurement bears a resemblance to the dark, resistant etchings in El's sketchpad; the consequences of his agenda coming into relief. So we see your point, Ry, about El's fixation on the (absent) avatar of "Sylvia" and his rejection of the (present) abundance of difference. And here I think we add Bunuel's
Obscur objet du désir
to Kevin's
Vertigo
reading.
I'm tempted to read the whole film as a cautionary tale about one allegory of film spectatorship: the rich risks of film as fixing its/our gaze on a (lost) object of desire which can never be incarnated. So then we could read
Ciudad de Sylvia
as loosening this grip (hence my suggestion that it updates the Laura Mulvey thesis) since it refuses to offer an unambiguous object upon which to fix our desiring gaze. Indeed, it offers alternative figures of moving image itself (metaphors of dynamic celluloid frames) and the aesthetic acceptance of occlusion and the uncanny.
One last thing: Kevin, have you read
If On A Winter's Night A Traveler
by Italo Calvino?
En la ciudad de Sylvia
could easily be read as a brilliant adaptation of it.
~j
[Note No. 1: You can read my "Part 1" missive by clicking here.]

[Note No. 2: Because the trailer to Bunuel's film and the clip from Hitchcock's were too good to simply link to I'll go ahead and embed them down here. They add to this reading, I think, tremendously.]
[Note No. 3: Kevin's reply can be found
by clicking here
to his blog. --RWK]