by Ryland Walker Knight

We knew it would happen sooner rather than later but even still this thuds in the chest. The loss of any formative giant will always hurt a sensitive and sentimental goof like me. Since I should be doing other things, and I'm sure plenty of others will write longer pieces full of insight and special significance, I'll just point you to one of the first, Glenn Kenny's concise, generous appreciation/obiturary, where I wrote this in the comments:
No other critic has left me feeling like a mote swirling in his or her refulgence. Indeed, it's rare to find any writer so lively, contradictory, and thoughtful; so readable and engaging; so endlessly giving in just one book of collected essays. He's helped me a ton. I imagine he will continue to help. Words like his don't disappear.

And he was a dope painter, too. I can barely write a post every week, let alone create other crap. I feel my size, and it is small. Miniscule.
To prove my size, and yours, here's some of his enormity, both in oil, both on board, both painted this decade. The top is called "Mocking Bird," from 2001; the bottom is called "Blades," from 2004.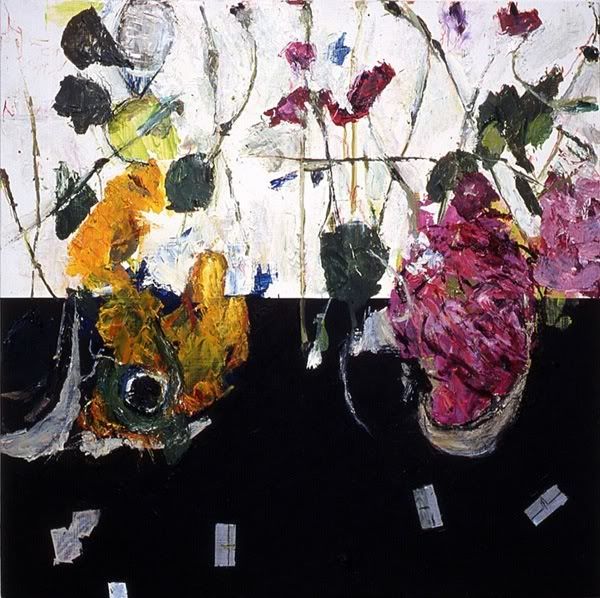 UPDATE:
All kinds of links. This is for me as much as you since most people who care have probably already read all these so far. As expected,
David Hudson
has rounded up a number of the appreciations, but -- surprise, surprise -- there's more; as I recapitulate a lot of his links, I hope to offer a few points of departure as well. And, as DH said, "So where to begin?"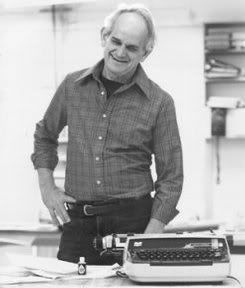 Perhaps with another giant,
J. Hoberman
, we're lucky to still have writing on a weekly basis. Ditto
Jonathan Rosenbaum
, a sterling example for how (old) print critics can shift into the digital age. Or with
Ray Pride
's lovely, passionate notes.
David Phelps
collects some favorite passages, and
Keith
does, too, with Matt chiming in past the fold on the comment thread with some typically sensitive and smart words (I should say that it was Keith who insisted I read
Negative Space
in the first place, and boy was he right; thanks, buddy).
Zach
quotes "Underground Films" and lists Manny's top choices from 1951 to deal with his hurt.
Karina Longworth
collects some valuable links, pointing us towards, among other things,
a San Diego PBS segment on Manny's paintings
and
an interview with Robert Walsh
, who wrote the preface for a reissue of
Negative Space
, about Farber and his significance. Introducing
Robert Polito
on SF360, editor Susan Gerhard notes she heard the news from Telluride co-director Tom Luddy, who offered, "I can only say that Manny was a dear friend and one of my heroes, a great writer and a great painter."
Jim Emerson
tussles with some of the famous Termite-Elephant argument and so does
Phil Nugent
, if obliquely. Turning full circle, a commenter at Glenn's blog,
Tony Dayoub
, points us to Paul Schrader's short
Untitled: New Blue
, named after a painting Schrader bought from Farber, who helps us look with selected voice over passages accompanying a roving close up camera; there are more than a few dissolves. David Schwartz talks with Schrader about the news for
Moving Image Source
.
Andy Rector
says, "Thanks for the chew, Manny," and offers two paintings, while
R. Emmet Sweeney promises more to come
. Turn back the clock (as Rosenbaum did), and you can re-read
Girish
(2006),
Duncan Shepherd
(2006),
Leah Ollman
(2004),
Franklin Bruno
(2004),
Doug Cummings
(2003),
Edward Crouse
(1999), and
Noel King
(1999), among others. He will continue to be valued and appreciated well past me and you -- and with good reason -- so the best we can do is clap a few times, pour out some drink and maybe read a book tonight instead of watching a film. Or, if you are going to watch a film, try one you haven't seen from that 1951 list, I'm sure there's plenty there to choose from... And smile. There's a lot all around to get you giddy.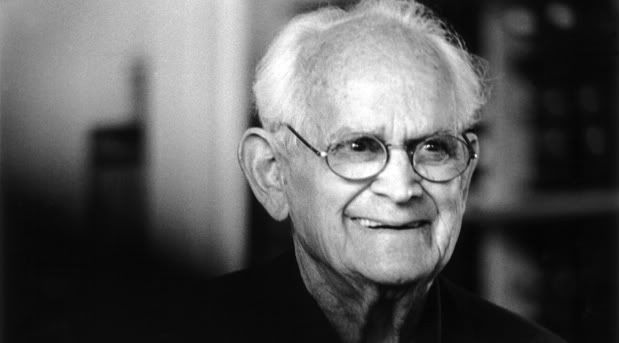 [Portrait, stolen from SF360, taken during the 2003 SFIFF when Manny accepted the Novikoff award.]
UPDATE THE SECOND:
Girish has written a piece
pointing to ten reasons he loves Manny Farber. He also points us to an online archive of that Donald Phelps collection in
For Now
magazine, which you can
read here
. There's a lot of stuff that got put into
Negative Space
but there's also a good deal of other stuff. Plus, it has great cover art.