by Ryland Walker Knight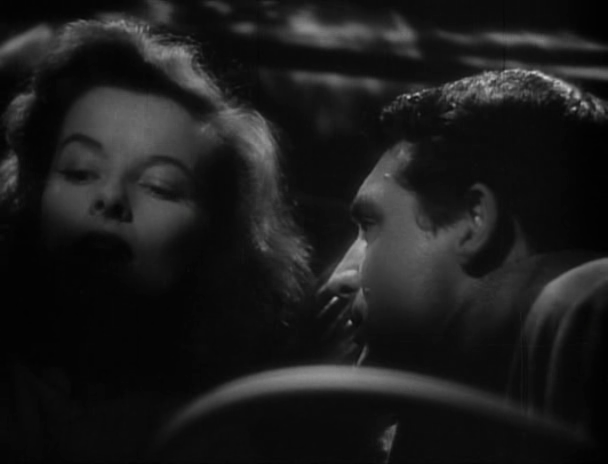 —Character teaches above our wills
The moral crisis or question highlighted in this week's scenes (chapters, texts) is humility, or learning to be humble, in the face of one's world-life-lover. Put otherwise, at all events these passages enact a humbling, or shaming, as equally as they name such instances so. But Cavell does not argue that we need feel shamed by the genius of another, or our helpmeet, over and over; rather, the shaming scene inspires further communion, deeper conversation. That is, the conversation we enjoy with our respective others, whether in private with a lover or in private with a friend (sometimes the same thing) or in public with either, will be refreshed. There's never a tabula rasa but there is this renewal. (It should be clear I am more talking along the lines of the film under our noses, this
Philadelphia Story
, and Cavell's coined remarriage comedies, rather than attacking Emerson to start. I think this reversal may make sense as we gambol forth—this
is
a film blog after all, or before all.) In fact, erasure is exactly the opposite aim of these scenes of humbling. In
The Philadelphia Story
, the aim is explicitly exposure: Cary Grant's majestic C.K. Dexter Haven tells Katherine Hepburn's imperious Tracy Lord "to get those eyes open." Open, as Cavell puts it, to the fact that Tracy "does not desire what she protests to desire" (42). Here we are to understand perfectionism not just (not ever?) as "Self-Reliance" but also as "self-recognition"—and that such will only ever be instigated by one's interaction with the other. The trick is then to find another who not only inspires such alerts to acknowledgment (instead of aversion) but does it with a sense of humor, one whose sense of you is helpful and, cross your fingers, fun and funny.
We're dealing with a comedy, here, so the helpmeet is necessarily a comic figure. The helpmeet is a friend (
that
friend) that reflects what we've forgotten or clouded with a grin. Granted, not every helpmeet will wind up a Cary Grant. Not everybody can beam and wink like that guy. These are idols on the screen, not shadows, products of a star system. There is more about Cary Grant in particular in
Pursuits of Happiness
("what becomes of this mortal on film?"), and there is more about Katherine Hepburn here, including an aside to acknowledge her "garçonne" quality, which was made explicit in her first onscreen interaction with Grant in
Scarlett Sylvia
(a not-quite film) wherein she plays a girl dressing/posing as a boy. The focus on Hepburn is apt since the moral crisis of humility is hers to bear throughout
The Philadelphia Story
. It's up to her to recognize her helpmeet, her Dext, in the noontime bright of day. It's up to her to find a way to feel "like a human, like a human being," as she tells her father before her remarriage. This
perfectionism, like writing, is a personal action/activity and choice.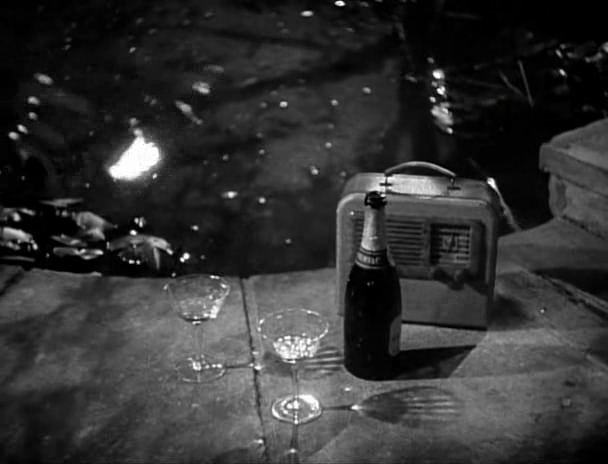 This notion of the personal, or where we draw that line in praxis, gets at something Cavell spells out later in this book about the audience of philosophy, which I included in the last
Conjunction, no.8
: in a chapter about Plato, Cavell reiterates his claim "that the only audience of philosophy is one performing it" (331). It's pithy, but huge. In fact, it's been driving a lot of my own curiosities of late. How much am I writing (to say participating in a philosophical and/or critical conversation) strictly with myself? —Far too often, I scare myself. Yet, clearly, a good number of you are willing to arrogate to me and my troubles with words and images. (This is eternally flattering.) This preoccupation with my perhaps-indulgent investment in my own work also seems a marker of my current moods, which Emerson famously says do not believe in each other, during this new era I inhabit; an era that amounts to a terrifically and, I'm understanding, excitingly transitional time in my life. Trust: there's plenty of humility over here.
But to speak of myself isn't simply to speak of myself. It's an invitation, of course, to share my experience and somehow bridge our mutual skepticism of one another's minds. That is, it's a way to get at a universal language. And of course it fails. However, such failure is telling, another instance of education we'd do well to hear and heed.
The idea of "character" in Emerson always (so far as I recall) refers simultaneously to something about the worth and stamp of an individual's (or human group's) difference from others and to the physical traces of writing (or expression more generally). So "Character teaches above our wills" means simultaneously that writing conveys meaning beyond our intention, and quite generally that we express in every gesture more than our will accomplishes or recognizes. (33)
One of the sticking points for our Tracy in
The Philadelphia Story
is precisely her character. The film investigates her evaluation of her own character, which evolves, prompted by others' evaluation of her character, which, this being a comedy with a satisfying remarriage ending, evolves in its own right. Tracy goes from a series of "dressing downs" (Cavell's characterization of the scenes)—at the words of her ex husband, C.K. Dexter Haven, and subsequently of her father, Seth Lord—to a finale where Dext tells her he'll "risk it" (the remarriage, her new self-regard with those eyes now opened) and where, after she proclaims herself a human after all, her father tells her he feels "proud" (of her, of her changes, of her remarriage, we might say of this entire event, this life).
—How? Well, as I said above, it's a process of exposure. The entire film, as predicted by Tracy's little sister, Dinah, is an annulment of its proposed marriage in favor of another, truer union. It's getting Tracy to not just open her eyes but open them on her life and her true desires. That is to say this perfectionist bent is a process of making oneself intelligible both to others and to one's self. Evaluation, here, is premised on a certain pragmatism, not positives and negatives; i.e., what works. And it is work. The joy of
The Philadelphia Story
is how little work Cary Grant's Haven seems to do, though, as his non-rival George (Tracy's nominal fiancé) says, it certainly seems like he has a hand in every bit. Again, this majestic hands-off quality is a bigger part of
Pursuits of Happiness
's chapter on the film. But I would like to propose something that
Cities of Words
does not (or only alludes to) in this chapter: that C.K. Dexter Haven is a Socratic figure. His actions are largely pushing back words, posing questions. His "dressing down" of Tracy is not just scolding her back for being a scold but showing her scold to be such, to be exactly opposite of their purpose together—to help each other. That is, they reach a place where they equally regard one another as their helpmeet. That's Haven's magic: he offers a safety net, in a sense, as his name can signify, simply by reminding her that she's open with him for a reason. She brings her confession to him, not George, and her humility of imagined transgressions with Mike (the herein under-appreciated Jimmy Stewart) from the night before is proof he is not the one for her. Only Dext sits there, half-lit in the car, to tell her she's beautiful; she only hears him; and it's tribute to Hepburn that we see this at that moment. Her character, as an actress, is without reproach, a true equal for Grant, as it should be. For that's part of the satisfaction of many of these remarriage comedies: to see two beautiful people fulfill one another's promise of a life left open to what lies ahead. Who doesn't want that?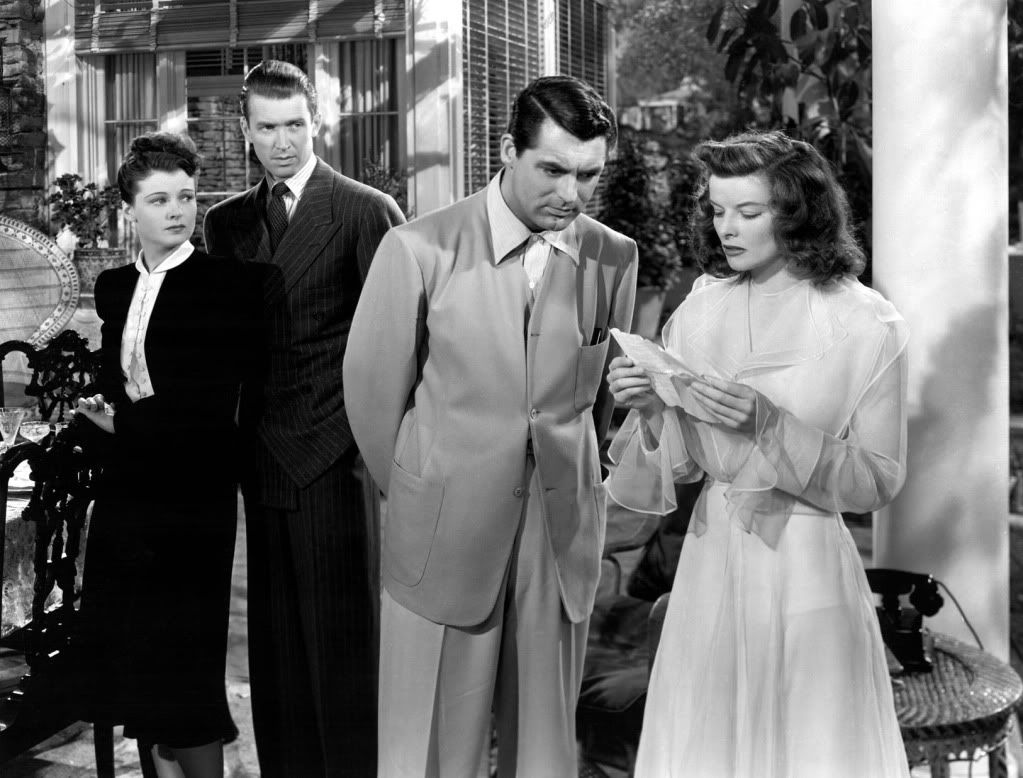 —e.g., look at their clothes
[You will no doubt excuse my tardiness with this post, I trust, as you will no doubt understand that obligations such as employment, a dog and some involved dinners both accompanied and alone (to say nothing of headaches) got in the way of its final composition. However, given the toll that
Lost
seems to take (though, truth be told, I'm doing my best to spend no more than a half-hour on those bits of folly), I think it might prove beneficial to me if we agree to convene for Cavell on Fridays such as today.]
[Next week: Locke +
Adam's Rib
, or consent]