by Ryland Walker Knight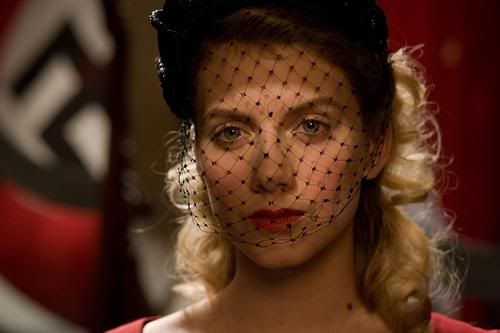 Despite a plethora of scintillating and smart pre-release reviews from a number of friends, I wrote a little something about
Inglourious Basterds
for Danny over at The Auteurs Notebook after I saw it Friday night. Today, you can
click here to read it
. It's a pretty damned insane movie, ballsy and self-immolating and, it seems to me, very personal. I didn't touch on this in the review, but somehow this stretched canvass feels even more personal than
Kill Bill
, though it springs from similar source: QT loves his women. More specifically, he gives Mélanie Laurent one of the most romantic moments of his career, kissing her black lover (Jacky Ido) goodbye; likewise, Ido's cigarette flick farewell is surprisingly tender. Also worth noting here is that I'm as tired as anybody of the "everything is cinema" refrain, but, if you start there (not end there), you can see that there's a bigger argument at play. It just helps that cinema is a perfect venue to talk about the things Tarantino is obsessed with: women, identity, action, the illusion of agency, the cost violence can rack up on a soul (or not), feet, performance, language and color. I really wanted to see the picture again before writing about it (I may go tomorrow), but it was fun to jam on it and bust out some quick reactions. I hope you like it, too.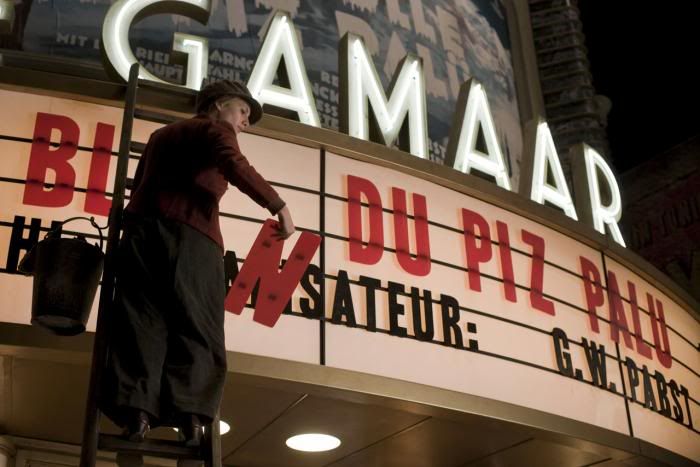 Some reviews I dig: After Hoberman's mini gauntlet
in the Voice
, Karina Longworth's
reappraisal at Spout
, Koresky's enthused
Reverse Shot piece
, Eileen Jones' halfway there golf clap at
Exiled Online
, Manohla Dargis' three-quarter counter case in
The Times
, Walter Chaw's rapture at
Film Freak Central
, and a couple by Glenn:
first
and
second
. Also, in case you loved that Bowie interlude, too, give it a listen
over here
.