by Ryland Walker Knight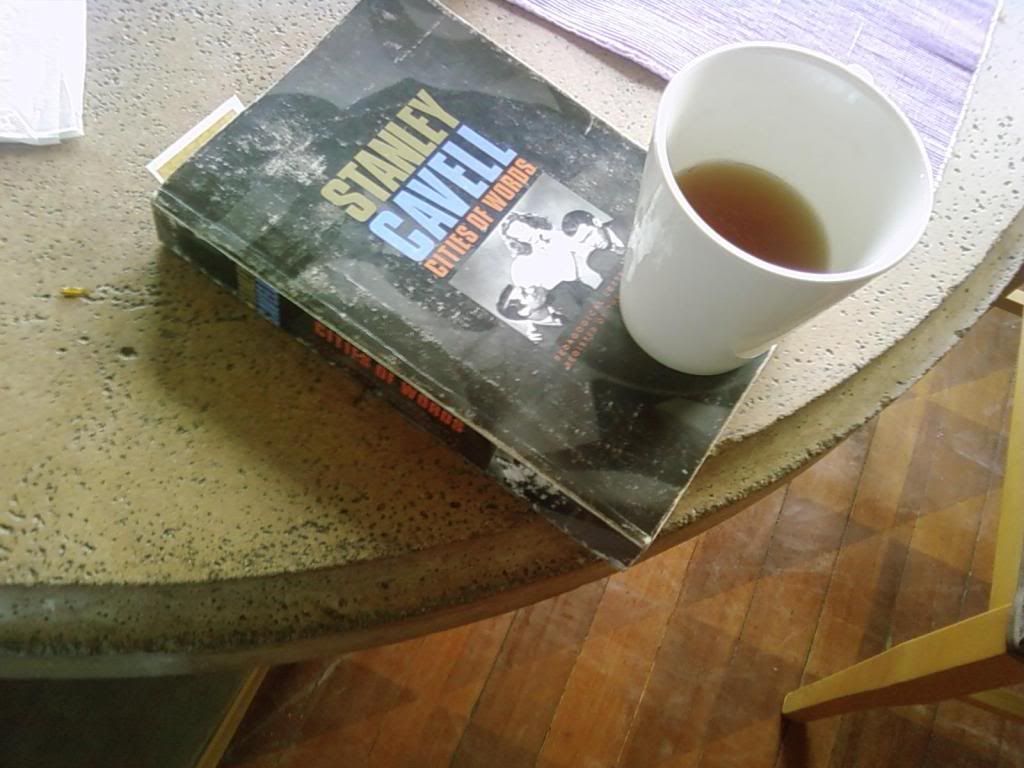 —Get your own copy all beat up
Here's a final reminder and syllabus, of sorts, or at the very least a notice, about my proposed group reading of Stanley Cavell's
Cities of Words
. I expect the weekly series to be a Thursday feature and, given the roll out these daze at home base, these posts will largely sit atop the vertical all weekend until the viewing log Sunday night. That gives us plenty of time to trade some ideas, if you decide to play this game with me. This will also, I hope, attract eyes away from the weekly
Lost
posts I plan to take on, though I'm not sure if they'll be recaps or idea strings or images grabbed off the television or what; chances are it'll be a goof, like the show, and, like anything on this blog, it'll just be designed to make me laugh. But that's not why we're here, in this post, today.
Today I'd like to talk Cavell, having re-read the preface and the introduction, as my own preface/introduction to why I chose this book and why I chose it now. My favorite beginning begins so: reading Cavell makes me feel good; plain and simple, as I tumble through his sentences, I can feel my face widen. Of course, it's never so plain nor so simple as that. There's a lot loaded into this pleasure. At this stage in the game, my mind is directed towards this text through too many lenses to filter in words without wasting everybody's time. But, largely, I'll say that though plenty of this pleasure is at the level of the prose, sure, it's the very idea of such writing that gets me going; the audacity, what Cavell might call the arrogance, of philosophy and its aim to speak for so much, so many, is never just "admirable" in its seriousness but hilarious in its ludicrousness. (Bloggers are a joke for a reason, but it should be admitted, as ever with human expression, some blog corners do yield fruitful thoughts.) Cavell, however, doesn't pitch modest to counteract any of that; nor does he pitch pompous. Rather, as a thinker invested in thinking about talking, about conversation, his words are largely conversational. Thus they meander, ambling around ideas as much as burrowing into them—but over all we get the sense that Cavell has covered every inch of an idea, explored the entire plot of it, or at least been curious enough to scour around as long as he can.
Philosophy can be easily debased, as Cavell argues, as the indulgence of idle minds prone as they are to returning to a text or to an idea. And, no doubt, it takes a certain life to support such a style, such a mode—such a pursuit. I, for one, understand that despite any complaints I may harbor (what twenty-something doesn't gripe? who hasn't been shit on at least once?), I lead a charmed life. I'm never hungry and I live in a world class metropolis. I work every day, I walk a dog every day, I have the luxury of a spice rack, I even find time to blog. (That is, I make the time.) And here I am, making time to go over a book I've already read at least twice all the way through not to mention any stray dips into its trough since 2007. Because I can, yes, but also because I think it will help me with a number of thoughts about things I love to think about, and need to rethink, here and now. I'm terrifically flattered that some of you readers out there are, indeed, planning on joining me as I go through these ideas in public. Put otherwise, I look forward to learning things from you, and about you, as this silly some-kind-of syllabus progresses. However, despite my interest in philosophy's therapeutic angle, I'll try not to bore you all too-too much with me. There's plenty of particulars in the text, and in the films.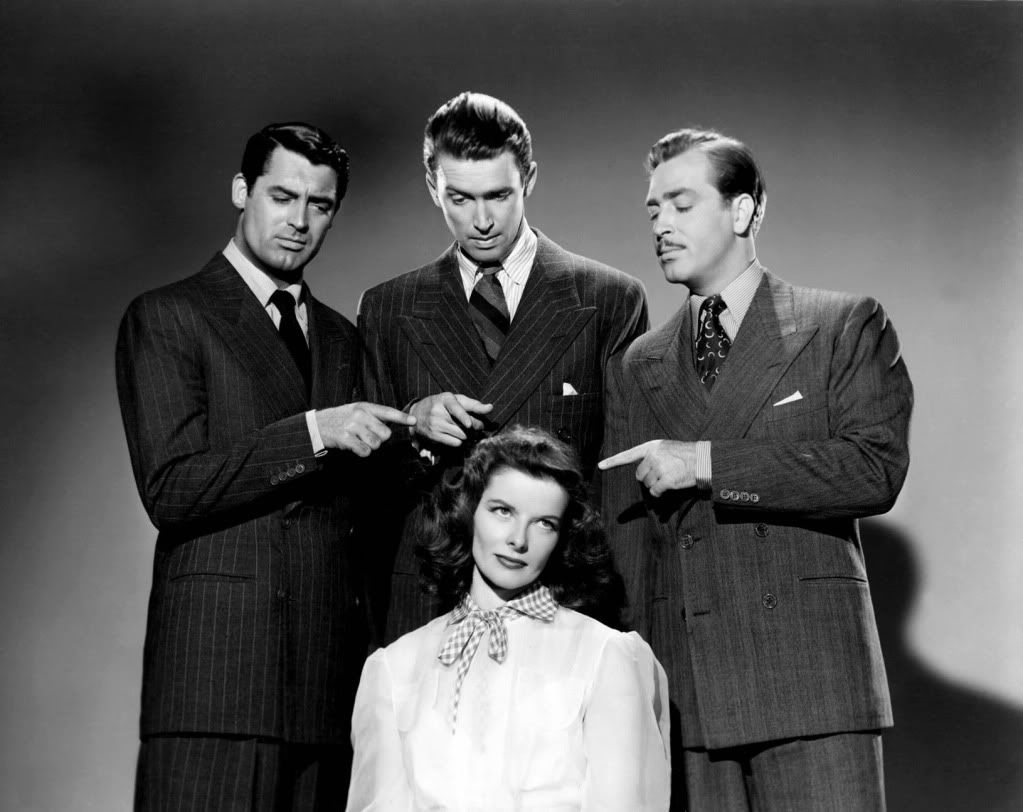 —First up, her. And them.
For instance, now it should be no secret where I got the inspiration for my
A Conjunction of Quotation
series. I adore the idea of an epigram mix tape as imagined by Cavell here. I'm sure others have told similar stories elsewhere, but I first saw this construct here (and in the opening to
Pursuits of Happiness
). I just hope my attempts don't belittle the form; I certainly don't propose to claim it for my own.
For another, the exploration of "perfectionism" gets at the heart of this project: I'm not trying to master the text by any stretch. Rather, I'm just trying to understand it better. And I want to do that because I think it will help me live better. I want to answer the voices of my mind with more than a shrug or a to-do list; I hear their call of disappointment just like anybody else; I know I can find my words and actions with less head and heart aches. What's most curious about a project such as this, or such as a classroom, is located precisely in Cavell's first epigram from Emerson: "I know the world I converse with in the cities is not the world I
think
." Because what does calling for fellow autodidact "pedants" to join my pastime mean but an attempt to bridge, possibly even erase, that gap? (Related, broader: what's this impulse to blog? We all have a voice, and a life. Is it refuge? Or is it passion? Fuck shame: I will cop to both.) This idea starts another line of thought, though, which we will undoubtedly return to as we move forward with Cavell: skepticism, other minds, and how transparent can or should we be or get?
This line is the focus of
The Claim of Reason
, which was culled from Cavell's dissertation. One of the problems you might encounter reading
Cities of Words
, if this is your first Cavell, is that it's almost a summation book. Everything is bound up in his long life of thought. It reads richer the more you read by him. However, that should not dissuade you. His sentences may frustrate you from time to time and it may be easy to tune out and let your mind wander but every now and again I guarantee there will be a sentence that drops your jaw with its insightful redescription of an event in a film, or a line of a text. So, as he says/writes, read fast and slow and hopefully you'll have some fun with it. After all, for any selfish reasons behind a blog such as mine, and a project such as this, the guiding impetus is to inspire further curiosity. I hope you seek out the films, and the book, and other books that have inspired this effort at charity (on my part, on Cavell's part, on your part). Put otherwise, let's build something big. You know, expand our
horizons
. You know, for fun.
If you have already read the introduction, feel free to drop any ideas you have looking ahead in the comments. I'll be more than happy to trade topics. If not, no biggie! I'll see you back here next Thursday, the 4th, to continue this conversation. Until then, try to get outside.