by Ryland Walker Knight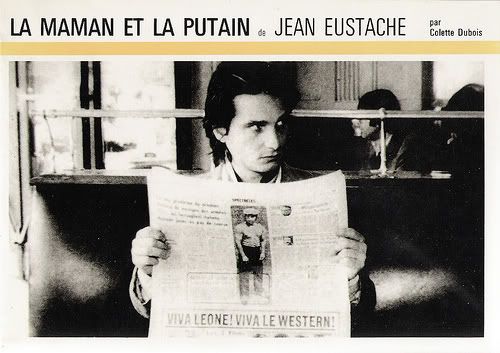 [Note the words at the bottom of the frame]
This Saturday, the 4th, sees the beginning of PFA's Jean Eustache series,
No Wave
, with a screening of his most famous film, an epic of hurt, or so I'm told, called
La Maman et la putain
. Back in February, on his podcast,
Mick LaSalle recommended the Bay Area go see the film
and the theatre sold out. I don't think this blog post can drum up quite
that
much interest, but, heck, we try. For some other words to strike up your imagination,
read Rosenbaum here
. Also of note, my friend
Julien Guillemet
told me last week that
Numéro Zéro
is hilarious, sordid, a must-see; of course it sounds great, as Juliet Clark has described it: "In a string of long, stationary takes, the camera watches over Eustache's shoulder while he pours countless glasses of whiskey and [his grandmother] Odette tells the stories of her life. A number of her themes resonate with those of Eustache's films: cruelty, male philandering, the Rosière festival of Pessac.
Numéro Zéro
is a return to origins—of cinema and of the self—and an experiment in narration, both restrained and deeply personal." It shows Sunday, October 12th, at 7pm. I hope to see all of the films, time and energy providing, and to write some words along the way through the month.
Monday Morning UPDATE:
Why was I afraid? As much as Leaud's Alexandre is a pain, and as irritating as he can get, the film is wholly pleasurable, somehow. Part of it, no doubt, is Bernadette Lafont. More soon.