by Ryland Walker Knight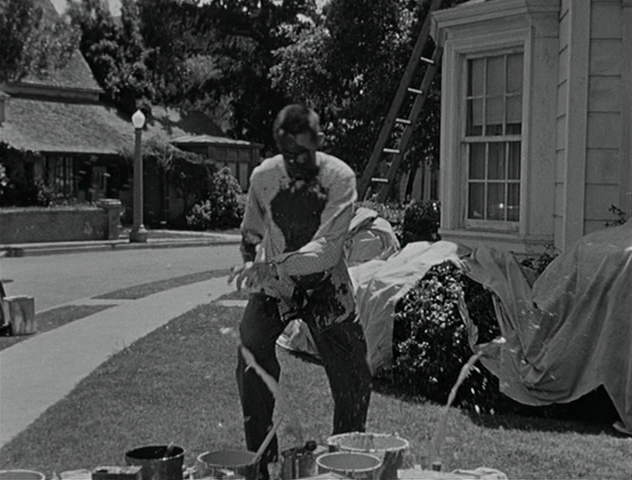 —It's been too hot to go outside.
The Big Sleep [Howard Hawks, 1946] # A classy picture, a funny picture. The shamus protagonist makes perfect sense for Hawks. Something to chew on: Bacall's a dime, no doubt, but Vickers (the lil sister) has sass for days, and that kills me.
Gentlemen Prefer Blondes [Howard Hawks, 1953] # Finished on my computer, and thoroughly enjoyed. As deep as Marilyn's eyebrows are active—and lively, too. Again, about the forms of intelligence we are keen to, which, here, is made clear by way of talking about "keen on"...
Beyond A Reasonable Doubt [Fritz Lang, 1956] Pitiless and spare, drained of sentiment but full of life, despite Lang's will to the conceptual (as Rivette argues), this one can be read in the flames of the car wreck: we're pawns, owned by the world and at its mercy; we're elements among many bustling and bursting. Weird way to start a day.
Gentlemen Prefer Blondes [Howard Hawks, 1953] Just twenty minutes, then the disc messed up. Gave up, wrote other things.
Monkey Business [Howard Hawks, 1952] The old married couple version (inversion?) of Bringing Up Baby, and maybe even smarter. Proof Ginger Rogers still had it, and that Grant can do almost anything when it comes to physical humor. Also, Hawks is, like, the best.
L'intrus [Claire Denis, 2005] # For Cuy; watch freeNIKES! soon.
La Frontiere de l'aube [Philippe Garrel, 2007] Not quite as frightening as the Robson, but just as down. I never want to fall (away from the world) like that. But, of course, Lubtchansky makes nightmares look like dreams. So serious.
The Seventh Victim [Mark Robson, 1943] Death looms, provides an out. Bizarre that this got made, and just plain bizarre. Don't know how much I "agree" with it, but I sure did enjoy its wacky frights of darkness.
US Go Home [Claire Denis, 1994] # (a few minutes here and there) Youth is a dance. Or it should be.
Nenette et Boni [Claire Denis, 1996] Finally, yes. (My apologies, MK.) As I noted, this picture "makes me miss smells. Stinks, even. Also, my sister." Love the way Greg dances in the pizza van.
My Favorite Wife [Garson Kanin, 1940] # Irene Dunne sure is something, as is Grant, as ever, and I sure did laugh a lot, but it's pretty damned goofy. Way goofier and slapdash than The Awful Truth. Watched this on youtube, FYI.
Stalker [Andrei Tarkovsky, 1979] # Another greatest movie ever made. Vicarious applies to me, sure, but it applies to these three dudes, too, don't you think?